# 高山祭 2014 Takayama Festival | HIDA TAKAYAMA
2014.03.14 Friday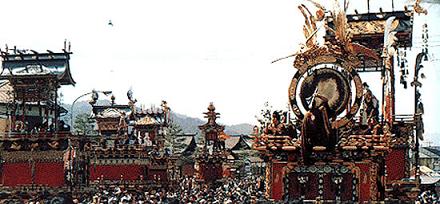 春の高山祭が4月14日15日とあります。
カラクリ御輿が有名でめっちゃ動きます。
見たらスゴイといってしまいます。
なんだか既に高山の宿はいっぱいの模様で
名古屋ゲストハウス音速別荘にまでチョイチョイ予約が入り始めました。
宿泊の予定や電車の予約はお早めに!!
Takayama Festival 2014 english
http://www.hida.jp/english/events/takayama-festival
In April when the snow on the mountains which surround the basin of Takayamamelts away and solid ground reappears, Spring finally comes to Hida Takayama.As people joyously celebrate the new season, the sound of drums from festivalsin nearby village shrines echoes in the clear Spring air. The largest festival,the Sanno Matsuri, which is held April 14th and15th is hosted by the Hie Jinja Shrine. It is popularlyknown as the Takayama Spring Festival. Every Spring,people from all over Japan come to Takayama to celebrate this special festival.
The Spring Festival is an annual festival of the HieJinja Shrine which was originally built in 1141. The people who livein the southern half of downtown Takayama worship at this shrine.
The actual festival starts on March 1st, when the order of the procesionof festival floats is decided. On April 14th, after the ritual ceremonyat the shrine, a festival procession with hundreds of townspeople wearingtraditional costumes begins.
During the day time, all Spring Festival floatsare pulled out, and the marionette performances are dedicated to the gods. In the evening, a nightfestival containing beautifully decorated floats proceeds through thetown. People are fascinated by the beautiful breath-taking scenery.
The next day is a highlight of the festival. Marionetteperformances on Ryujin-tai, Sanba-so, and Shakkyo-tai floats are executed, and the shrine's main god, led by the festival procession,visits every household. A group of people in the procession play Shintomusic, which is Japanese Imperial music; the other group carries a "Mikoshi",or a portable shrine with a god in it. The long procession featuring traditionalmusic and people in traditional costume takes us back to old Japan.
The festival finishes with another ritual ceremony at the shrine. The ceremonyis held in a solemn atmosphere.
名古屋ゲストハウス音速別荘
名古屋駅から徒歩18分
1泊 ドミトリー2,300yen〜 個室シングル〜3,500yen
TEL 080-6969-6726
HP⇒
Nagoya guest house H.P
MAIL⇒ info☆otohaya.com ☆=@
NAGOYA BACKPACKERS GUEST HOUSE OTOHAYA BESSOU
18min walk from JR Nagoya station
DORM 2,300JPY/PER NIGHT
SINGLE ROOM 3,500JPY/PER NIGHT